Electrified Cover Safeguard™
SMART STREET LIGHTING
Incorporate the Electrified Cover Safeguard into your existing street lighting
network to create the smartest possible sustainable street lighting system.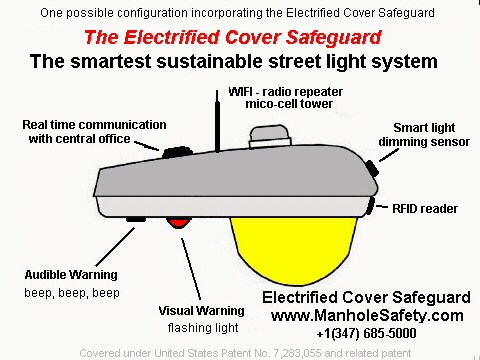 The Electrified Cover Safeguard can be incorporated to create the most advanced sustainable street lighting system including WiFi, police and fire department radio repeater, micro cell tower, RFID reader, all at the same time providing real time stray voltage and contact voltage monitoring with a real time, on site visual and audible warning.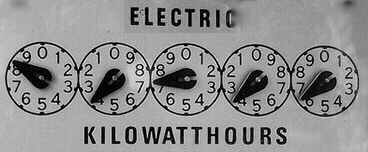 The Electrified Cover Safeguard can be built into smart
electric meters or conventional electric meters.
Electrified Cover Safeguard™

Completely protected by United States patent.
Sales@ManHoleSafety.com



The use of any visual or audible or combination stray voltage warning system on a manhole or street lamp or other utility box is covered under the patent issued for the Electrified Cover Safeguard. This approved patent derives international protection and benefits from the American Inventors Protection Act of 1999 and the earliest publication date as well as from an earlier provisional patent. United States Patent No. 7,283,055

www.ManHoleSafety.com
Please contact us for complete details on the numerous advantages that the Electrified Cover Safeguard can provide for your company including how installing the Electrified Cover Safeguard can potentially reduce your liability and ultimately save your company money.
Sustanable City Light, LED Down Light/LED Cabinet Light/LED Ceiling Light, LED Down Light. LED Tube Light, LED solar garden lights, light steel keel, Moving Head Light. Moving Head Computer Light. LED Flex-Neon Light. Color Change Light. Plastic Light and LED Downlight, Ceiling Light, Recessed Light. LED Microscope Light, Outdoor LED Flood Light and LED Ceiling Light. Stage Light/DJ Light/Disco Light, Masthead Light. Also LED Tube Light, LED head magic Light. LED Down Light Series, SMD LED Spot Light, Spotlight, LED Spot Light plus Point Light Source. LED Ceiling Lamp/Light, Solar Yard Light, LED Spot Light. LED Tube Light, LED Bulb/LED Bulb/LED Lamp/LED Light and LED Battery String Light. The Electrified Cover Safeguard can be incorporated and used with all of the above lightng and luminars in all voltages and watts including 7w, 10w, 3w and more. It is a must to control unwanted contact voltage.